Mas Sajady Public Service Programs
Charity Event at the Loving Service Foundation
LSF Children's Event
Saturday, August 12 10am-12pm
Each year, Mas comes to the Big Island to host a free morning event for children with Dr. Reuben Lelah, Psy.D. of the Loving Service Foundation (LSF). 100% of the proceeds from this event are donated to supporting the children LSF serves and it's mission. This year's event is divided into two powerful sessions.
(Free)
Session 1 - 10:00am - 10:30am - Support for Children for Higher Brain Function/Development
For you or on behalf of your loved ones, the Mas Sajady Public Service Program offers free Medihealing® masterminds that highlight collective concerns to accelerate transformation.
Mas selects different areas to work on each time according to what people come to him the most for in his private sessions. The Free Public Service Program is designed to assist individuals of heightened need, regardless of financial means on the individual's end. In addition, the power of the group energetically fuels the space to bring even faster and more powerful healing to each participant.
Though no financial charge is placed on these Medihealings, it's useful to know that their value and capacity for accelerating powerful transformation in one's life remains unlimited. Many individuals have experienced major life transformations with Mas Sajady's free programs.
($25 Donation to LSF)
Session 2: Children's Vibrational Therapy Session (open to all children and their families)
Loving Service Foundation's mission is to provide psychological treatment to seriously ill children and adolescents using traditional and multi-disciplinary treatments. Treatment interventions are more effective when addressed by a variety of approaches, including the vibrational work of Mas Sajady. LSF specializes in treating children and teens who are dying or who have chronic illness. LSF also awards scholarships and other financial assistance to allow individuals and their immediate family members to travel and obtain psychological evaluations and brain scans at leading research facilities and universities.
NOTE that this event is not only for the children being treated at LSF. Any children and their parents/families may attend, and their children will get direct attention and healing work from Mas.
Registration Instructions
All children and their families are welcome regardless if they are new to LSF. To attend this very special annual event, please contact the Loving Service Foundation at the number below.
Space is limited to 60 people. A donation of $25 per family to LSF is requested in advance to secure your reservation.
Call 808-325-1111 to RSVP. Please include how many will be in your party and your phone number so the foundation can track space.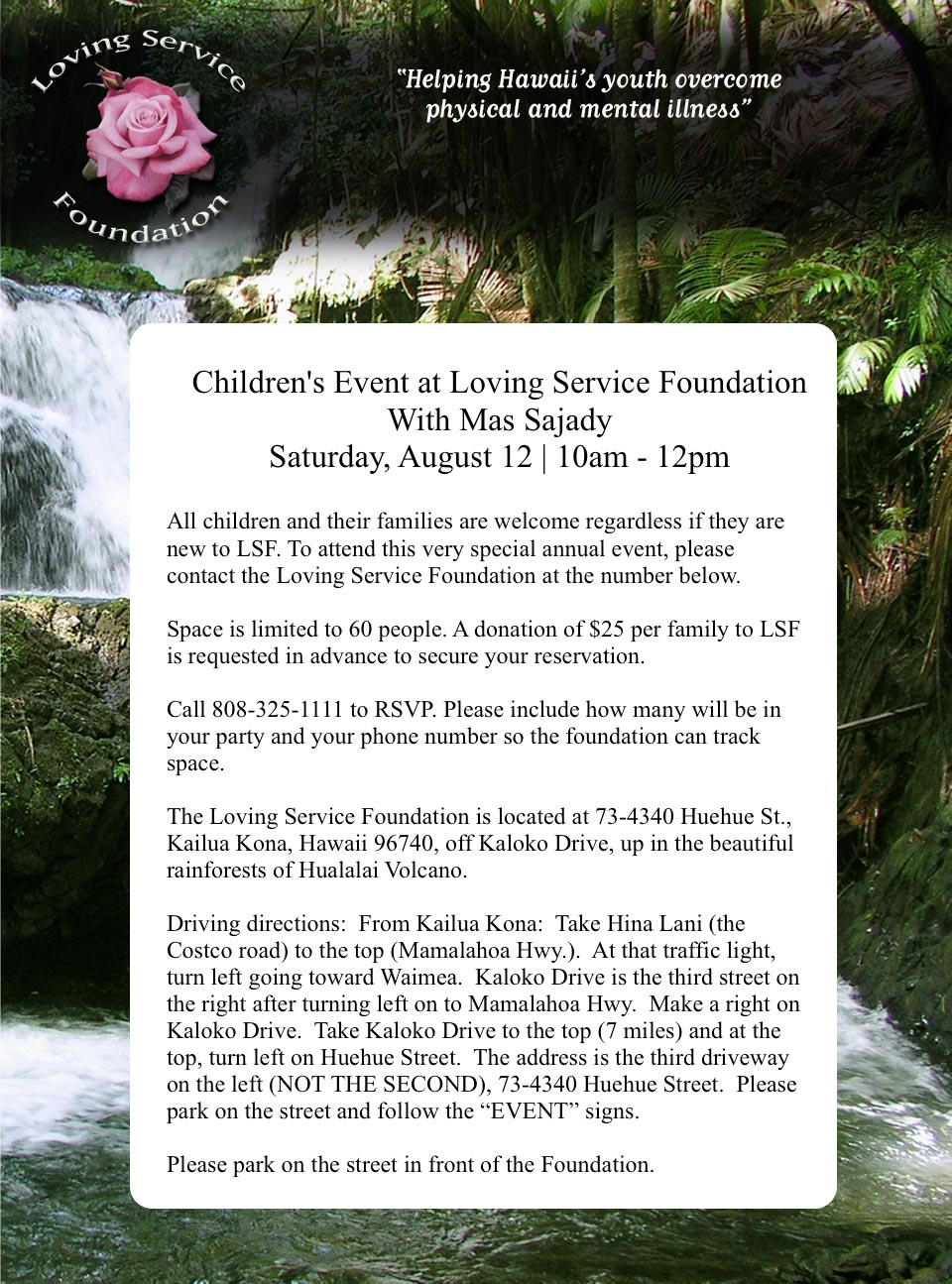 The Loving Service Foundation is located at 73-4340 Huehue St., Kailua Kona, Hawaii 96740, off Kaloko Drive, up in the beautiful rainforests of Hualalai Volcano.
Directions: From Kailua Kona: Take Hina Lani (the Costco road) to the top (Mamalahoa Hwy.). At that traffic light, turn left going toward Waimea. Kaloko Drive is the third street on the right after turning left on to Mamalahoa Hwy. Make a right on Kaloko Drive. Take Kaloko Drive to the top (7 miles) and at the top, turn left on Huehue Street. The address is the third driveway on the left (NOT THE SECOND), 73-4340 Huehue Street. Please park on the street and follow the "EVENT" signs.
Parking will be on the street in front of the Foundation. We hope to see you and your families there at this enchanted place.